We are now taking bookings for our cottages which will reopen on 1st May, 2021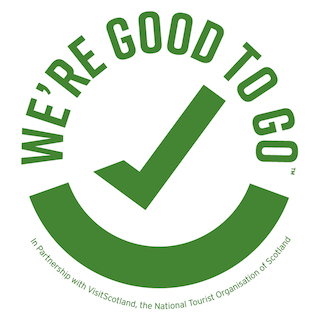 The 'We're Good To Go' industry standard and supporting mark mean businesses across all sectors of the tourism industry in Scotland can demonstrate that they're adhering to the respective government and public health guidance, and have carried out a COVID-19 risk assessment to check they have the required processes and protocols in place. Glenquicken Farm Self Catering Holiday Cottages meet that standard.
Holidays to treasure start at Glenquicken
Glenquicken is a working farm with sheep, horses, hens, pedigree Galloway cattle and working dogs. We also run a trout fishery. The farm is open for exploration by our guests and we have an abundance of wildlife with deer, hares, pheasants, ducks, buzzards, hawks and numerous garden birds. We even have our own resident white barn owl.

Our cottages are maintained and furnished to a high standard and all rooms have stunning views of the Galloway countryside. The water in the cottages is supplied by our own spring which rises deep in the hill behind the farm. The water is very pure and clean as it is filtered through Galloway granite and the sand and gravel deposited from a long-gone glacier which once covered our glen. Car parking is available outside the cottages in a private area set aside for this purpose.

Our Green Pledge
As a Certified Galloway and Southern Ayrshire Biosphere business, we endeavour to safeguard our environment wherever possible in everything we do here at Glenquicken Farm and adhere to all environmental standards in our business using power supplied from our wind turbine, using low wattage LED lights, water supplied from our own spring, utilising and protecting the burn that feeds our fishing loch, recycling as much material as possible and harvesting sustainable local game and venison. We strongly support the area's natural eco-system and do our best to keep our transport and fossil fuel usage to a minimum. Read more about Galloway and Southern Ayrshire Biosphere and view our Certification.

---

Glenquicken Farm Game Meats

Glenquicken Farm Game Meats is fully registered to sell venison, game and trout which can all be cut to required portion sizes, vacuum packed and frozen ready for purchase.
General Data Protection Regulation

The General Data Protection Regulation (GDPR) will apply in the UK from 25th May, 2018. It will replace the 1998 Data Protection Act and introduce new rules on privacy notices, as well as processing and safeguarding personal data.